Content provided as an educational volunteer effort of the American Passenger Rail Heritage Foundation (APRHF), a 501(c)(3) non-profit organization.
Please help support the preservation and promotion of passenger rail heritage. Join the APRHF today! Website hosting made possible by our sponsors.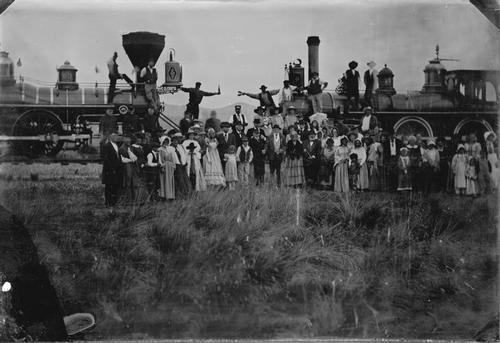 Thanks to Eric & Kat Lowe for the photo.




Welcome to the railfanning-utah hompage.



Since 1869 with the driving of the golden spike at Promontory point, Railroading has been a large part of Utah.
Combine the beauty of Utah landscape with all the railroad action, and you are in railfanning paradise.



Here are some of the railways that operate in Utah.
A friend of mine E-mailed these radio frequencies to me.

1. 161.145 Utah Railway channel
2. 160.455 Dispatcher #78
3. 161.145 Utah R.,Repeater channel/mobile phone
4. 160.740 Lyndal Sub dispatcher
5. 161.490 Roper Tower
6. 160.920 Tramp Job, Union Pacific
7. 160.515 Salt Lake Sub Dispatcher
8. 161.550 Dispatcher #76
9. 160.815 Salt Lake Southern Railroad
10. 160.680 North Yard
11. 160.770 Utah Railway channel
12. 161.295 Utah Railway channel
This page started 12-december-99


If you have any comments, or want to contribute E-mail me.


All photos are property of Jameston Kroon. Do not use without permission.
All logos property of copyright holder.

Click below for pages in the directory of TrainWeb sites:

Visit our Rail Magazine promotion trading partners: (Click here to add your print rail magazine.)

Newsletter | About Us | Contact Us | Advertise With Us | Silver Rails Country for Train Enthusiasts

View TrainWeb.US Stats | Page updated:12/22/2018 | Version 2018l22b | Links | &copy2015-2019 NordiLusta, LLC
---